May 24, 2002
Robin Williams portrays Sy Parrish, a lonely photo technician at the local SavMart One Hour Photo counter who develops an unsettling obsession with long time customers, the Yorkin family, with whom he invents a familial connection.



May 19, 2002
The new teaser for Austin Powers: Goldmember is here. Nothing major here, but if you are a fan you will probably still want to check it out.



May 16, 2002
Bond is back with explosive action in Die Another Day, the 20th installment in the most successful film franchise in history.

Pierce Brosnan will star as Secret Agent 007 once again in the 20th James Bond film. Die Another Day will pit Bond against a mad North Korean General Zao played by Rick Yune, and features Halle Berry as the latest Bond girl, Jinx. New Zealander Lee Tamahori (Along Came A Spider) is the director.

Check out the new teaser trailer.



May 12, 2002
I've just added the third Minority Report trailer.

In case you don't know, Minority Report is about a cop in the future working in a division of the police department that arrests killers before they commit the crimes courtesy of some future viewing technology.



May 11, 2002
Signs, a thriller set in Bucks County, Pennsylvania focuses on the mysterious appearance of a five-hundred-foot design of circles and lines carved into a family's crops. Mel Gibson plays a pastor/farmer, who becomes a media sensation after the crop circles begin appearing in his fields.

Check out the new spooky trailer, as well as 2 earlier teasers.



May 11, 2002
Acclaimed filmmaker Ang Lee's concept for his film adaptation of the classic Marvel Comics series, The Hulk, combines all the elements of a blockbuster visual effects-intensive superhero movie with the brooding romance and tragedy of Universal's classic horror films. In depicting The Hulk as both a superhero and a monster, a wish fulfillment and a nightmare, Lee and his team have stayed true to the early subversive spirit of the character created by Stan Lee and Jack Kirby, while completely updating The Hulk and projecting it into the dangers and aspirations of contemporary times.



May 10, 2002
I've just added an excellent trailer for the latest Tom Clancy novel to be turned into a film - The Sum of All Fears.

European neo-Nazi terrorists get their hands on a lost nuclear device, and set about on their plans to use it at the Super Bowl. The plan is to disguise the attack as being caused by Russia, in the hopes of rekindling the Cold War. Luckily, a young CIA analyst is on the case, Jack Ryan. Harrison Ford has been replaced by Ben Affleck for the role of Jack Ryan and his mentor is played by my favorite actor, Morgan Freeman.

Early reports from test screenings for this one have been very positive and I am very much looking forward to this one.



May 10, 2002
It wouldn't be summer blockbuster season without an animated family film from Disney, and this year we have Lilo & Stitch.

Lilo is a little girl from Hawaii who adopts a dog who is actually... an alien, a quite evil alien to be precise. The Alien, Stitch, is a criminal who was being transported to an intergalactic prison whose ship crashed on Earth, and he is posing as a dog (hiding two of his six legs) to escape detection by the alien police who are now looking for him.



May 6, 2002
I've just added the new Men in Black II trailer.

If you've already seen the teaser then this is just more of the same, but if you have enjoyed the teaser then you will be happy to know that this is actually PLENTY more of the same and you will probably enjoy it just as much.



April 4, 2002
I've just added the trailer and a new clip from Kissing Jessic Stein.

When we first meet Jessica a sensitive but neurotic New York journalist she is at the end of her emotional rope. Her brothers engaged, her best friends pregnant, she hasnt dated in a year, and she cant sleep. After an optimistic but nightmarish dating spree, she happens upon an intriguing personal ad, whose only drawback is that its in the women seeking women section. On a daring whim, she decides to answer it. She meets funky downtown hipster Helen Cooper for drinks and, to her surprise, they click instantly. Their evening of banter, connection and heated debate culminates in a kiss that confounds and intrigues even the reluctant Jessica. With conventional gender roles absent, the two women proceed to muddle through an earnest, but hilarious courtship, making up the rules as they go along.



April 2, 2002
Based on a Philip K. Dick short story, Minority Report is about a cop in the future working in a division of the police department that arrests killers before they commit the crimes courtesy of some future viewing technology. Cruise's character has the tables turned on him when he is accused of a future crime and must find out what brought it about and stop it before it can happen.



March 31, 2002
People have been asking me about this one since Episode I, so I thought I'd let you all know.

The Star Wars: Episode II poster is now available for sale online.



March 30, 2002
Holy bat droppings Robin, it's the new Spider-Man trailer!

Yes, the second and eagerly anticipated Spider-Man trailer is finally available to download, and it is full of new great footage!



March 19, 2002
I've just heard from New Line Cinema saying that Austin Powers 3 had just undergone a name change and will not be known as Goldmember. Until they announce the new name they are simply referring to it as The Next Installment of Austin Powers



March 15, 2002
I've received many requests for an MPEG version of the Star Wars: Episode II trailer, so here it is.



March 14, 2002
The new Jason X trailer is here.



March 12, 2002
Five hilarious new clips from Ice Age were just released, definitely worth checking out.



March 10, 2002
The new Star Wars: Episode II trailer has just been released!

This latest trailer, titled Clone Wars, shows many new scenes from the movie and some amazing special effects. It also reveals a bit more about the plot (but not enough to ruin anything for you) and Anakin's gradual descent to the dark side fueled by his arrogance and growing powers.

To summarize, this is the best Episode II trailer so far and is highly recommended to anyone even remotely interested in this movie... But then again, I don't know many people who are just "remotely" interested in it.



March 10, 2002
I don't usually recommend products here but this time I can resist it.

One of the greatest parodies ever, Weird Al' Yankovic's UHF, will be released on june 4 on DVD, digitally remastered in both 16:9 (widescreen) and 4:3 (full screen)! The DVD will also include tons of extras such as deleted scenes, running commentary, photo galleries, trailers and more.

UHF tells the story of the owner of a struggling cable tv station (Weird Al) who creates a bunch of nutty shows to pump up his ratings. This movie was also Michael Richard's (Seinfeld's Cosmo Kramer) big break into showbiz so keep an eye out for him in the role of the station's cooky janitor.

UHF is available for pre-order from Amazon.com with a 25% discount.



March 8, 2002
Sony just sent me the new Spider-Man TV spot, and even though I don't normally include Windows Media files on the site, I've decided to add them because so many people are interested in this movie.

I would love to hear your opinions for or against Windows Media clips in the site in the future, what do you think? Click here to email me.



March 6, 2002
Vin Diesel reunites with the director and the producer of the blockbuster "The Fast and the Furious" for this summer's high-octane, action-packed espionage thrill ride. Diesel stars as former extreme sports athlete Xander "XXX" Cage, notorious for his death defying public stunts. Betting he can succeed where other conventional spies have failed, Xander is recruited by NSA Agent Gibbons (Jackson) to become a different kind of undercover agent. Enlisted for a dangerous covert mission, he must use all his extreme skills to combat a clever, organized, and ruthless enemy far beyond the scope of his experience.

Just added the new Triple X trailer.



March 5, 2002
8 Mile, an honest but provocative fictional examination of a critical month in the life of a young man named Jimmy (Eminem) as he searches for identity and a sense of purpose. Against the familiar backdrop of indifference and community decay, he learns to express his anger, fears and frustration as he struggles to transcend his bleak circumstances.



February 24, 2002

We are proud to present our visitors with an exclusive We Were Soldiers clip and an exclusive clip from the interview with direcor Randall Wallace as well as several never before seen pictures from the movie and a chance to win a hometown screening of We Were Soldiers for you and all your friends.

Visit our We Were Soldiers page for more details.



February 20, 2002
Milla Jovovich and Michelle Rodriguez star in Resident Evil, the action-packed thriller based on the popular video game, as the leaders of a commando team who must break into "the hive," a vast underground genetics laboratory operated by the powerful Umbrella Corporation. There, a deadly virus has been unleashed, killing the lab's personnel and resurrecting them as the evil Un-Dead. The team has just three hours to shut down the lab's supercomputer and close the facility before the virus threatens to overrun the Earth.



February 20, 2002
The new Austin Powers 3 teaser trailer is here, and unlike the last teaser released two month ago, this one finally shows some actual footage from the movie.

The teaser itself, isn't very funny, special or interesting... But it doesn't aim to be all those things. It is just here to let the fans know Austin is back and that should be enough to bring them back to theatres (don't take this the wrong way, I'm a fan of the Austin movies myself).



February 20, 2002
A doctor (Kevin Costner) believes his wife (Susanna Thompson) is trying to contact him... from beyond the grave, through the near-death experiences of his patients... and the mysterious dragonflies (in various forms) that haunt him, remind him of her.

I've just added two new Dragonfly trailers.



February 11, 2002
When a hospital won't give his son the heart transplant he needs, because he doesn't have insurance, John Q (Denzel Washington) takes the hospital's emergency room hostage.

If you enjoy a good drama, I highly recommend this trailer!



February 11, 2002
The third Ice Age trailer has just been released.

It may not be as funny as the first one, and has a lot of footage we've already seen in the previous trailers, but if you already saw them and liked what you've seen then this one won't disappoint you.



January 21, 2002
Enter the Kung Pow contest by answering a simple question and you could win a Kung Pow poster signed by the writer/director/star of this new comedy from 20th Century Fox.

Hint: He also wrote The Nutty Professor, Ace Ventura: When Nature Calls, Patch Adams, Nothing to Lose and many others.



January 21, 2002
Writer-director Steve Oedekerk ("The Nutty Professor", "Ace Ventura: When Nature Calls") creates an off-the-wall comedy and a new martial arts genre that substantially alters dubbed action footage from a 1970's martial arts picture with a brand new twist in the story line and altered dialogue. The story follows The Chosen One (Oedekerk) as he seeks to avenge the death of his parents at the hands of the evil and seemingly indestructible kung fu legend, Master Pain.

I've just added the Kung Pow trailer.



January 21, 2002
Fourth generation war hero Col. William McNamara (Bruce Willis) is imprisoned in a brutal German POW camp. Still, as the camp's highest-ranking American officer, he commands his fellow inmates, keeping a sense of honor alive in a place where honor is easy to destroy, all under the dangerous, ever-watchful eye of SS Major Wilhelm Visser. Never giving up the fight to win the war, McNamara is silently planning, waiting for his moment to strike back at the enemy. A murder in the camp gives him the chance to set a risky plan in motion. With a court martial to keep Visser and the Germans distracted, McNamara orchestrates a cunning scheme to escape and destroy a nearby munitions plant, enlisting the unwitting help of young Lt. Tommy Hart.

Just added the Hart's War trailer.



January 9, 2002
This story centers around a divorced woman in her 30's and her daughter, who are caught up in a cat-and-mouse game inside their new New York brownstone when three burglars come looking for a hidden cache of cash. Mother and daughter hide in the "Panic Room", a secret room designed for just such a purpose, but still end up fighting for their lives.



January 9, 2002
Queen of the Damned is based on the third book in Anne Rice's popular Vampire Chronicles. The first book, Interview With the Vampire was converted to an excellent movie (in my opinion). Now Warner Bros. are trying to cash out on the third book, and judging by the trailer, fans of the book will be disappointed. This movie seems to be aimed more at fans of movies like Blade and other action movies and not at Anne Rice's audience which is looking for a more intelligent plot. Still, it is a bit too early to judge this movie so harshly, so let's hope I'm wrong.

You can check out the trailer yourself here.



December 23, 2001
Blade II features half breed vampire warrior Blade (Wesley Snipes) fighting against a master race of bloodsuckers called the Reapers. The new breed is a stronger, more resilient bunch, with none of the traditional weaknesses of their daylight-hating bretheren. To beat these new creatures, however, Blade is forced to team up with the one thing he hates the most - vampires.

I've just added the new Blade II teaser trailer.



December 23, 2001
The new Austin Powers: Goldmember teaser trailer has just been added.

Not much is known at the moment about the plot, but it will reportedly be a prequel, taking us back to Austin's growing-up years.



December 23, 2001
The MIBs are coming to rid the earth from the scum of the universe... Again!

I've just added the new Men In Black II teaser trailer. If you enjoyed the original Men In Black you should check this one out.



December 19, 2001
We Were Soldiers is the true story of 450 U.S. soldiers, early in the Vietnam War, who found themselves surrounded by 2,000 North Vietnamese regulars in the Ia Drang Valley, in what became the first major battle of the extended conflict. The story will focus on Lt. Colonel Harold Moore (Mel Gibson), commander of the 1st Battalion, 7th Cavalry, and Joseph Galloway, a reporter.

Check out the new trailer I just added.



December 19, 2001
Snowboarding through life, David Aames (Tom Cruise) appears to lead a charmed life. Handsome, wealthy and charismatic, the young New York City publishing executive's freewheeling existence is enchanting, yet he seems to be missing something. Like the pointillism of an Impressionist landscape, a life can appear to be entirely different when examined close up. In one night David meets a girl of his dreams (Cruz) and loses her by making a small mistake. Thrust unexpectedly onto a roller-coaster ride of romance, comedy, suspicion, love, sex and dreams, David finds himself on a mind-bending search for his soul and discovers the precious, ephemeral nature of true love.

Check out the Vanilla Sky trailer.



December 14, 2001
The new Spider-Man trailer is out, and it is truly amazing! Very recommended, so go and see it now in the Spider-Man Page.

I have also added this new trailer to the 3rd Jurassic Punk Trailer Disc instead of the previous Spider-Man teaser that it contained.



December 13, 2001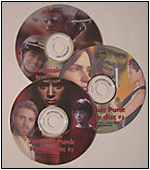 We have just released the third Jurassic Punk Trailer Disc!

The 3rd trailer disc is filled with the best, most popular trailers handpicked by our team and gathered on one CD. Some of the trailers on the CD include such upcoming hits like Star Wars Episode II, Scooby Doo, Spider-Man, Fellowship of the Ring, Black Hawk Down, Ice Age and many others as well as some recent hits like Behind Enemy Lines, Spy Game, Ocean's 11 and more. Almost 40 new trailers and teasers.

And, as a special offer, if you order all three trailer discs you will get a discount of over 30%! Or if you order two trailer discs you will get a discount of 25%!

Can you think of a better holiday gift for the movie buff in your life?

Click here for more details or to order now.



November 26, 2001
A Navy pilot (Owen Wilson) is shot down over enemy territory, and struggles to survive the relentless pursuit of a ruthless secret police enforcer, a deadly tracker, and countless hostile troops. With time running out, the injured pilot's commanding officer (Gene Hackman) goes against orders to carry out a desperate rescue mission Behind Enemy Lines.



November 26, 2001
A new Monsters Inc. trailer has just been released. This is hilarious and definitely worth downloading so get it now!



November 26, 2001
Dapper Danny Ocean is a man of action. Less than 24 hours into his parole from a New Jersey penitentiary, the wry, charismatic thief is already rolling out his next plan. Danny orchestrates the most sophisticated, elaborate casino heist in history. In one night, Danny's handpicked 11-man crew of specialists, will attempt to steal over $150 million from three Las Vegas casinos owned by Terry Benedict, the elegant, ruthless entrepreneur who just happens to be dating Danny's ex-wife Tess.

Check out the newly added Ocean's 11 trailer.



November 24, 2001
The Scooby Doo trailer is now online. The movie follows the gang in a live action adaptation of the classic cartoon with a computer generated Scooby and such stars as Freddie Prinze Jr, Sarah Michelle Gellar and Rowan Atkinson.



November 21, 2001
The Black Hawk Down trailer has been released.

If you enjoy some action in your trailers you will probably like this one. Nothing ground breaking, but still interesting.



November 21, 2001
Woohoo! A new Star Wars: Episode II teaser. This is the third one and the longest one of the three. Highly recommended



November 13, 2001
In the year 2455, long after humanity has abandoned Earth as a lifeless planet, an expedition of archaeological students discovers a research facility where two people are cryogenically frozen: one a young woman, the other a large male in a strange mask. The ice begins to thaw, and so the students bring the bodies back to their spaceship, having no idea what they just unleashed on the future... and of course, on themselves: Jason.

I've just added the new Jason X trailer.



November 13, 2001
I've just added the second Star Wars: Episode II teaser! This teaser is definitely worth downloading, it contains a lot of new footage, it's much better then the first teaser and certainly in line with the kind of quality we've seen on the Episode I teasers and trailers.

I've also added MPEG versions of both teasers like so many people requested.



November 9, 2001
Many people had problems downloading the Star Wars: Episode II teaser, so I added a new local mirror to it and it should work beautifully now.



November 7, 2001
Black Hawk Down is the true story of the Battle of Mogadishu, the longest sustained ground battle involving American soldiers since the Vietnam War. An elite force of 120 American Delta units and Ranger infantry were dropped into Mogadishu on October 3rd, 1993, to abduct two of Somalian warlord Mohammed Farrah Aidid's lieutenants. Instead, two UH-60 Black Hawk helicopters were shot down, and what was expected to take an hour lasted 15, resulting in the deaths of 18 Americans, 73 wounded, and hundreds of Somalians dead.



November 7, 2001
The first Star Wars: Episode II teaser is out!

I really don't think there is much that needs to be said about such a huge production we've all heard of so I'll just talk about the teaser itself. This is the first teaser for Attack of the Clones and while it doesn't contain a lot of footage, what is inside is impressive and definitely what you would expect if you saw Episode I.

Star Wars Episode I had some great trailers, let's hope Episode II follows in its tracks.



November 7, 2001
The second Ice Age teaser is out. As you may recall if you are a serious trailer fan, the first teaser came out a few month ago and was hilarious, one of the best teasers and definitely the best one this year (in my humble opinion). So how does the second teaser measures up to its lineage? It's good, not quite as good as the first one, but definitely worth downloading.

Ice Age is a digitally-animated feature film from Blue Sky Studios, a top computer graphics imagery/feature film animation studio and a division of Twentieth Century Fox animation Studios. Set against the onslaught of the ice age, and a world filled with wonder and danger, the story revolves around three unforgettable characters: a wholly mammoth, a saber-toothed tiger, and a sloth, who unite to return a human baby to his tribe.



October 24, 2001
Vinnie Jones, the Mean Machine, leads a group of prison inmates who challenge prison wardens to a game of soccer and hatch a plan to escape.

Vinnie Jones and Jason Statham... Sounds interesting, I loved them in Snatch and Lock Stock!



October 24, 2001
I just added the third teaser for The Fellowship of the Rings. Not a lot of new footage in this one, but if you're a fan, get it anyway.

If you haven't seen trailer 2 which I added last month, get it first... It's much better. In fact, it is excellent!



October 24, 2001
I've updated the Spider-Man page with the new teaser trailer. This is the new teaser that came out after the tragic events of September 11 and doesn't include the World Trade Center in it.



October 24, 2001
A veteran CIA agent, Nathan Muir (Robert Redford), is on the verge of retirement when he learns that his former partner, Tom Bishop (Brad Pitt), is being held on espionage charges in Beijing after attempting to free a Chinese prisoner. Though Muir's loyalty and determination have faded significantly over the years, he insists on going to Bishop's aid.

Spy Game, is a searing political thriller from director Tony Scott (Top Gun, Enemy of the State).



September 26, 2001
The new and final trailer for The Fellowship of the Rings is here and it is good!

This final trailer is almost 3 minutes long and contains tons of tasty new footage we've never seen before from this epic.

What can I say? Get it now! Get the very high res version (30 Mb.) if you have the patience, it's worth every second of downloading!



September 20, 2001
The story revolves around Hal (Jack Black) who, taking his dying father's advice, dates only the embodiments of female physical perfection. But that all changes after Hal has an unexpected run-in with self-help guru Tony Robbins. Intrigued by Hal's shallowness, Robbins hypnotizes him into seeing the inner beauty of even the least physically appealing of women. Hal is smitten after meeting the obese and homely Rosemary, as he translates her kindness and humor into physical perfection (in the form of Gwyneth Paltrow). After Hal's equally shallow friend, Mauricio (Jason Alexander), undoes the hypnosis, Hal must face an unrecognizable Rosemary and make a fateful decision.

If you like funny romantic comedies I suggest you check out the Shallow Hal trailer, it's quite funny.



September 13, 2001
Jurassic Punk is proud to be able to host America Grieves, a site where you can light a virtual candle in memory of the tragic events that happened earlier this week.

America Grieves allows you to light a virtual candle in memory of the victims and as a sign of support for the families. Their goal is to light up 50,000 candles in the next few days.



September 10, 2001
Robbert Redford stars as three-star General Irwin, a renowned military tactician, who has been court-martialed and sentenced to a maximum security military prison run with an iron fist by its warden, Colonel Winter (James Gandolfini). Winter can't help but respect the once-legendary general, but that respect turns to hostility as Irwin defiantly confronts the warden on his methods. Their confrontation escalates into war when the general organizes his fellow inmates into an army to take over the prison.

The Last Castle trailer is highly recommended! I'm really looking forward to this movie after seeing this trailer.



September 10, 2001
Tortilla Soup, set in the Latino community of Los-Angeles tells of a retired Mexican-American chef, and father of three unmarried adult daughters, who has lost his taste for food meets an attractive grandmother who might have her eye on him. Like Eat Drink Man Woman, the movie revolves around meals, and the love lives of the people having them.



September 3, 2001
Oh dear, it seems like I missed The Fellowship of the Rings trailer which was released a couple of month ago. I just added it and fixed the links to the older teasers.



September 1, 2001
When Dr. Zorba dies, he leaves his house to his broke nephew, who moves in with his daughter. With the house come two unexpected pluses (or minuses): there's a fortune hidden somewhere in the house and the house has Thirteen Ghosts... Why did Zorba have so many ghosts? He collected them!

Looking at this trailer it looks like a lot of imagination went into the design of the sets in this movie, let's hope this is better then all the standard horror movies we've seen too many of lately.



September 1, 2001
I've just added the second Windtalkers trailer. It contains lots of new footage not seen in the previous trailer, so if you enjoy a good war flick, check this one out.



August 29, 2001
Jay and Silent Bob Strike Back brings together elements of the characters, moods, and atmospheres of other View Askew films Dogma, Chasing Amy, Mallrats, and Clerks. One clear difference is that this film is pure comedy.



August 29, 2001
Two bank robbers end up fighting over the love of a woman they kidnapped before a heist. Hoping to publicize the kidnapping, they break into the home of the host of a TV show called Crime Stoppers, forcing him to cover their exploits personally.

Check out the new Bandits trailer.



August 29, 2001
Captivated by the promise of receiving the money owed to them from a previous robbery, a crew of highly skilled thieves decides to follow their leader on his last Heist.



August 29, 2001
With his dazzling ability to stage exhilarating action sequences, director Yuen Woo-Ping, the acclaimed action choreographer behind "The Matrix" and "Crouching Tiger, Hidden Dragon," brings to life the spirited tale of a mysterious and mythical Chinese legend in Iron Monkey.

Set in a 19th century China village, when a corrupt politician finds himself repeatedly robbed by a masked bandit, Iron Monkey, named after a local deity, he forces a traveling physician into investigating the mystery and stopping him...



August 29, 2001
Domestic Disturbance revolves around a divorced father (Travolta) who discovers that his 11-year-old son's new stepfather (Vaughn) is not what he made himself out to be. Travolta's character sets out on a mission to rescue his son from a life-threatening situation.



August 29, 2001
The story of Prot (Kevin Spacey), a mysterious patient at a mental hospital who claims to be from a distant planet called K-Pax. While his psychiatrist, Dr. Mark Fuller (Jeff Bridges), is baffled by this cheerfully confident man, Prot's descriptions of life on a planet 7000 light years away awaken a sense of possibility among the other patients. When Prot says he's going back before the summer ends, all the patients on the ward vie to go with him. As the days before Prot's announced departure from earth race by, Dr. Fuller struggles with questions of science versus faith and wonders about his own ability to distinguish reality from delusion.



August 29, 2001
In The One, international action star Jet Li portrays Gabriel Yulaw, a police officer confronted with a sinister form of himself escaped from an advanced, parallel universe and intent on killing Gabriel. His alter egos hunt culminates in a fateful battle between good and evil that changes Gabriels perception of reality and forces him to examine the evil hidden within himself.

Both available trailers feature riveting martial arts stunts and innovative special effects and are great for Jet Li fans and fans of Matrix style action. So which one should you download? They are both very much alike with small differences and both are equally good, so just pick one of them and if you like it get the other one as well.



August 29, 2001
Set in the period from 1846 to 1863, this is the story of how the Gangs of New York (and subsequently, the Mafia) got started in New York City in that time of Tammany Hall and Boss Tweed. The two gangs at the heart of this film are the Dead Rabbits and the Native Americans. Amsterdam Vallon (DiCaprio) is the son of the Rabbits' murdered leader, and he vows vengeance on the man who killed him, Bill "The Butcher" Poole.



August 26, 2001
I've just added a new clip from Spider-Man that was shown at E3. Some cool new footage in there.



August 21, 2001
Cassius Clay (Will Smith) was a smart-talking, fast-stepping ball of fire, in the ring, and out, who lit up professional sports in the 1960's, eventually dropping his slave name and becoming Muhammad Ali.



August 8, 2001
He was the first tabloid star of the twentieth century and remains the most notorious and enigmatic serial killer in history. Jack the Ripper committed five heinous, ritualistic murders during a ten-week span in London in the fall of 1888, creating a frenzied atmosphere of gossip, rumor and terror. He was never caught.

Based on a popular and widely hailed comic book series, "From Hell" puts an intense psychological spin on the horrific legend of Jack the Ripper and unravels a chilling alleged conspiracy involving the highest powers in England.



August 8, 2001
Session 9 is a tale of terror about a group of asbestos removal workers that start their work in an abandoned insane asylum.

Check out the spooky trailer.



August 8, 2001
Wet Hot American Summer is set on the last day of camp, in the hot summer of 1981, this follows a group of counselors who are each trying to complete their unfinished business before the day ends. The entire summer of pent-up sexual frustrations, unresolved post-traumatic stress, pending separations and of course, the talent show, all weigh heavily on the minds and groins of counselors and campers alike.



August 8, 2001
Glitter is the story of a young singer, Billie Frank (Mariah Carey), who overcomes a turbulent childhood and struggles to find her true family and her true voice. Billie is discovered by Julian Dice, a charismatic, irresistible "bad boy" DJ who soon becomes her partner, producer and lover. With Dice, she begins an exciting but often volatile and precarious journey as she struggles through both her personal and professional life, riding the roller coaster to superstardom.



July 29, 2001
Collateral Damage, a new action thriller from Andrew Davis, the director of The Fugitive, tells the story of family man and firefighter Gordon Brewer (Schwarzenegger), who is plunged into the complex and dangerous world of international terrorism after he loses his wife and child in a bombing credited to Claudio "The Wolf" Perrini. Frustrated with the official investigation and haunted by the thought that the man responsible for murdering his family might never be brought to justice, Brewer takes matters into his own hands and tracks his quarry ultimately to Colombia.

Check out the new trailer.



July 20, 2001
The Princess Diaries is the story of Mia, a hip 16-year-old San Francisco teenager, who is surprised to discover that she is the sole heir of the crown of the small European nation of Genovia... she's a princess. It seems her Mom had this brief love affair with a member of the country's royal family, and kept it a secret from Mia, until now, when Mia's expected to take lessons from her newfound grandmother on how to be a princess. Can this big city girl get used to the life of royalty and responsibility?

Check out the new trailer.



July 15, 2001
A college student drives to New Jersey from Colorado with his older, prank-playing brother to pick up the girl he has a thing for from her college. However, on the way, a prank played on a trucker the two brothers meet during a CB radio conversation turns dark when they discover he's a psycho killer and he's out to get them...

Check out the new trailer for Joy Ride...



July 15, 2001
Grace (Nicole Kidman) moves into a remote island mansion near the English Coast, towards the end of the Second World War. She is waiting for her husband to return from battle and must take care of her two children, who are quite sick, unable to stand sunlight, so they live in darkness. In her isolation, however, she discovers that she's not really alone at all; there's something strange about the house...

Check out the new trailer for The Others... Spooky stuff!



July 15, 2001
Just added the new Planet of the Apes international trailer.

This trailer is just over 35 seconds and packs tons of action from the movie and some new footage we haven't seen in previous trailers.



July 15, 2001
Bubble Boy is a coming-of-age comedy following the life of Jimmy Livingston, a young man born without immunities and raised in a manufactured world provided by his well-intentioned but misguided mother. Jimmy is happy enough, and has all the same experiences of other boys and girls growing up except he lives in a bubble. But when Jimmy realizes that he's in love with Chloe, the girl next door, he has no choice but to build a mobile "bubble suit" and set off across the country to Niagara Falls, to stop Chloe's wedding -- which is only days away -- in time to confess his love to her.



July 13, 2001
The new Spider-Man teaser is here!

Finally we get to see some actual Spider-Man footage (the last teaser was nothing more then a big tease with no actual footage).

Check out teaser 2.



July 13, 2001
Deep in the City of Frank (actually the body of construction worker Frank Detomello), Osmosis Jones is a white blood cell cop who has to team up with a rookie cold tablet to fight off an evil virus intent on taking over. Meanwhile, out in the "real world", a doctor is trying to diagnose what's going on inside Frank's body.

Osmosis Jones is a cutting-edge, live action/animated action adventure comedy starring Bill Murray, Chris Rock and Laurence Fishburne.



July 7, 2001
After a year apart - attending different schools, meeting different people - the guys rent a beach house and vow to make this the best summer ever. As it turns out, whether that will happen or not has a lot to do with the girls. Between the wild parties, outrageous revelations and yes, a trip to band camp, they discover that times change and people change, but in the end, it's all about sticking together.

The full American Pie 2 trailer is here.



July 4, 2001

Special Summer Sale!

I have lowered the prices of the trailer discs and shipping costs by as much as 15%!

Click here for more details and to order.



July 1, 2001
I am conducting a short 7 question survey about the Jurassic Punk trailer discs and would appreciate it if you took a moment to participate.

I will be giving away 5 movie posters to 5 lucky people who respond to the survey.

You can read more about the discs and take the survey by clicking here.



July 1, 2001
I have to admit, the last time I was this presently surprised by a new trailer teaser was by another teaser for a digitally-animated film - the Monsters Inc. teaser (not the trailer). And now comes the new Ice Age teaser and blows me away again. Very recommended!

Ice Age is a digitally-animated feature film from Blue Sky Studios, a top computer graphics imagery/feature film animation studio and a division of Twentieth Century Fox animation Studios. Set against the onslaught of the ice age- and a world filled with wonder and danger- the story revolves around three unforgettable characters: a wholly mammoth, a saber-toothed tiger, and a sloth, who unite to return a human baby to his tribe.



July 1, 2001
The story of a 10 year-old boy and his robot dog, battling evil, rescuing his parents, saving the Earth, and returning home in time for dinner. As a kid who just happens to be a genius, Jimmy is always creating gadgets to make his life more interesting. Jimmy Neutron has a great sense of fun and adventure, but his inventions get him into trouble more often than not.

Jimmy Neutron: Boy Genius is a new digitally-animated feature film from Nickelodeon Movies.



July 1, 2001
I've just added the second trailer for Harry Potter and the Sorecerer's Stone. The new trailer is a big improvement over the first one, so if you are looking forward to this movie check out the new trailer here.



June 30, 2001
During WWII, the Navajo language was used for decoding top secret messages because it was a code that the Japanese did not have the resources (like Navajo speakers) to break.

Windtalkers plays upon the scenario that they might've tried to do something about that by kidnapping Navajo soldiers, such as Carl Yahzee (Beach). The military was aware of the danger to the Navajo soliders, so they assigned a Marine (Cage) to each as bodyguard, with the orders that if capture appears imminent, the Marine should kill the Navajo soldier as well. This movie is about two such soldiers who find themselves in danger; and at odds because they've also become friends...

Check out the new trailer here.



June 19, 2001
The first issue of our new HTML newsletter - Jurassic Punk Update - was sent two days ago to over 8000 subscribers.

To celebrate the occasion we will be giving away free trailer discs and maybe a few movie posters to subscribers in the next issue, so Subscribe now!

The newsletter has been dormant since the last century (1998) but from now on we plan on sending it out every month. The newsletter will contain news of new trailers, new movie reviews, new movie posters and more chances for free movie goodies...



June 12, 2001
The new Rush Hour 2 trailer is out.

Some nice fighting, some funny moments, noting too spectecular but still, if you're looking forward to this one, check it out here.



June 10, 2001
Sometimes a trailer is better then the film itself. The same is true with movie posters. Movie posters have always been one of my favorite art forms and a few posters grace the walls of my home.

So, in association with AllPosters.com, The World's Largest Poster and Print Store, I opened a new Poster Store right here on the Jurassic Punk. In this store you can find thousands of movie posters in great prices, and if you want you can order them framed or mounted on wood.



June 9, 2001
The new teaser for Scary Movie 2 is very short but delivers exactly what you would expect from this sequel.

You can download it here in three flavours.



June 9, 2001
I have to admit, the Monsters Inc. trailers is one of the trailers I have been looking forward to the most in the past few months. The original teaser was hilarious and left me wanting to see more. So, now that the trailer has finally been released, was it worth the wait? Well, it's not as good as the teaser but it still is funny and worth the download. And if you haven't seen the teaser yet, do yourself a favor and download it now!

For those of you who don't know, Monsters Inc. is Pixar's (the ones who brought us Toy Story) latest film. It tells the story of a parallel dimension populated by creatures of various size/shape, a corporation maintains portals to the underside of children's beds in our world. Monsters must audition for a spot and then are transported under the bed and must capture screams. Screams are the chief fuel source of this nether realm. There is only one law...Never Bring Back A Child! Well, of course two bumbling monsters, Mike and Jim bring a 3 year old girl back and are immediately punished by being exiled to our dimension. There they find out that the monsters of our urban legends i.e. Bigfoot, Nessie, Yeti are also exiled monsters.



June 8, 2001
Donald Sinclair owns the biggest, snazziest, flashiest, high rolling-est. casino in Las Vegas. And to entertain some of his wealthiest patrons, he's created the most original high stakes game that Sin City has ever seen - Rat Race! The contestants? Six teams. The jackpot? $2 million stuffed in a locker hundreds of miles away. The odds of winning? One in six. The rules? Well there's only one... Get there first. What the racers don't know is that the tycoon and his rich friends are betting on the outcome, and that their every move is being tracked. There's greed, speed, and a whole lot of bad driving as the race is on for the six contestants who'll go to just about any extreme to lay their hands on the cash. But it's only a matter of time before they realize that they've been used, and they veer off on a course that sends them speeding towards a totally different kind of payoff.

Check out the crazy Rat Race trailer.



June 8, 2001
If you are a fan of Jet Li's amazing action, or if you don't really know him but love Jackie Chan then you'll love the action in the new Kiss of the Dragon trailer... The billiard ball scene alone is worth the download.



June 8, 2001
I've just added the trailer to the sequel to American Pie - American Pie 2. The teaser trailer is pretty much what you would expect from this movie. If you enjoyed the first movie, you'll probably want to check this one out as well.



June 8, 2001
In 19th century France, a young poet (Ewan McGregor) leaves his family's home and heads off to the Montmartre district of Paris, a seedy underworld where he falls in love with the star of the Moulin Rouge and the most famous courtesan in Paris, Satine (Nicole Kidman).

Check out the Moulin Rouge trailer here.



June 2, 2001
Jackie Chan and Chris Tucker return in Rush Hour 2, the sequel to the blockbuster comedy that grossed more than $250 million worldwide.

Tucker and Chan are back to reprise their roles as unlikely partners who confront the biggest case of their careers. As Detectives Carter and Lee become increasingly tangled in a criminal conspiracy involving a deadly Triad, the non-stop adventure takes them on a journey from Hong Kong to Los Angeles and Las Vegas where they must use all of their talents to trap one of the worlds most feared gangsters.

Click here to download the trailer.



June 2, 2001
I've added three TV spots advertising A.I., Steven Spielberg's latest work that tells the story of an android in the 21st century.



June 2, 2001
The Pearl Harbor page has been updated with the trailer and the international trailer.



June 2, 2001
I've just added two trailers for Jurassic Park III. The third installment in the Jurassic Park series takes place on Isla Sorna (the infamous Site B) before the events of The Lost World.

Renowned paleontologist Dr. Alan Grant (Sam Neill) is persuaded by a wealthy adventurer (William H. Macy) and his wife (Tea Leoni) to accompany them on an aerial tour of the island. When a tragic accident maroons the party of seven, Grant discovers the true reason his deceptive hosts have invited him along. In their perilous attempt to escape with their lives, the dwindling group encounters terrifying new creatures, and Grant is forced to learn the dreadful implications of his raptor intelligence theory firsthand.

It's not just a walk in the park.



May 4, 2001
Due to the success of the first trailer disc, we've just released Trailer Disc #2. The second trailer disc contains the best and most popular trailers released in the last few month. Some of the trailers on the CD include Planet of the Apes, Tomb Raider, Final Fantasy, Lord of the Rings, Rush Hour 2, Harry Potter, Cats and Dogs, Evolution and many others.

Like the last trailer disc, all the trailers on this CD are high quality and can be viewed full screen.

Click here for more details and a complete list of the trailers on the CD.



May 4, 2001
The second teaser for Steven Spielberg's A.I.is online. Still very vague and in my opinion not half as good as the first teaser, but if you are looking forward to this one, you'll probably want to download it and see for yourselves.



May 4, 2001
Added the trailer to the remake of the classic Planet of the Apes by director Tim Burton.



May 4, 2001
A look at the top-secret, high-tech espionage war going on between Cats and Dogs, which their human owners are blissfully unaware of.

I've just added the trailer and the teaser and both are quite funny and worth the download.



May 4, 2001
Chaos breaks out when a meteor crashes on Earth, bearing one-celled organisms. The problem is that they begin evolving at a pace much faster than what happened on our world. Changes that took billions of years happen in one month. Now the battle for survival of the fittest must take place all over again.

Check out the Evolution page for the new trailer.



May 3, 2001
A police cadet who nearly dies in a car crash is rescued by a weird scientist who performs surgery on him using animal parts as transplants. When he tries to resume his normal life he discovers that the influences of the animals within him are causing him to behave oddly.

The Animal starring Rob Schneider is the type of movie I wouldn't normally go to, but I must admit that the trailer was quite funny and worth the download.



May 3, 2001
A Knight's Tale tells the story of a young peasant squire who assumes the identity of a fallen knight and works his way up the jousting circuit.

Nice trailer with a "We will rock you" attitude (featuring Queen's "Rock you" song in the background).



March 30, 2001
Harry Pendel, The Tailor of Panama, is recruited by a British spy who wants him to listen to the conversations of the Panamanian generals and politicians he clothes. What the spy doesn't know, however... is that Harry isn't who he claims to be, and the things he reports to the Brits aren't entirely true either...



March 8, 2001
Knockaround Guys is the story of four sons of major Brooklyn mobsters that have to team up to retrieve a bag of cash in a small Montana town ruled by a corrupt sheriff.

You can download the trailer here.



March 8, 2001
Just added the teaser trailer to Harry Potter and the Sorcerer's Stone. If this is even half as successful as the books, Warner Bros will hit the jackpot with this one.



March 8, 2001
Added the teaser to the remake of the classic Planet of the Apes by director Tim Burton.

The teaser certainly looks interesting, worth downloading and I'm looking forward to seeing the full theatrical trailer.



February 17, 2001
The story of the attack on Pearl Harbor is high on my list of must see movies this year after seeing the teaser released last year and the second teaser I just added.

Highly recommended!



February 17, 2001
In The Mexican, Brad Pitt stars as Jerry Welbach, a reluctant bagman who has been given two ultimatums. The first is from his mob boss to travel to Mexico to retrieve a priceless antique pistol known as "the Mexican"... or to suffer the consequences. The second is from his girlfriend, Samantha (Julia Roberts), to end his association with the mob. Jerry figures alive and in trouble with Samantha is better than the more permanent alternative, so he heads south of the border.

Finding the pistol proves easy. Getting it home is another matter. The pistol supposedly carries a legendary curse--a legend Jerry is given every reason to believe, especially when Samantha is taken hostage by a hit man (James Gandolfini) to ensure the safe return of the pistol.



February 17, 2001
Based on the comic book series Dark Town, Monkeybone is about a cartoonist (Brendan Fraser) who goes into a coma and is faced with his alter-ego cartoon creation called Monkeybone, as well as various monsters and creatures who don't want him to escape back to the real world.

SHOW ME THE MONKEY!



February 10, 2001
In 19th century Qing Dynasty China, a warrior gives his sword, Green Destiny, to his lover to deliver to safe keeping, but it is stolen, and the chase is on to find it. As the search leads to the House of Yu, the story takes on a whole different level, including the manipulations of the wicked warrior, Jade Fox, a mysterious young woman, and her desert lover.

Just added two new trailers and higher resolution versions of the teaser trailer for Crouching Tiger, Hidden Dragon.



February 10, 2001
Just added the trailer and a higher resolution version of the old teaser trailer for Final Fantasy - The Spirits Within, the CG film based on the classic console game series.



February 10, 2001
"Since my injury I can't make new memories... Everything fades. If we talk for too long, I'll forget how we started. The next time I see you, I am not going to remember this conversation."

Memento is the story of a man suffering from short term memory loss. The last thing he remembers, is his wife getting murdered. Now he's trying to avenge her death, a problem when every minutes he forgets everything he has learned.

"Since my injury I can't make new memories... Everything fades. If we talk for too long, I'll forget how we started. The next time I see you, I am not going to remember this conversation... I've told you this before haven't I?!"



February 10, 2001
A college nerd is the victim of a practical joke gone wrong. Some years later, he has changed his appearance and become successful, and begins spending each Valentine's Day knocking off one of the four women who were involved in the prank that got him expelled and all but ruined his life.



February 10, 2001
Just added the two new Tomb Raider teaser trailers that aired during the Superbowl.

All the fun of the original trailer without that annoying narrator. So if you liked the first trailer, check this one out.



February 10, 2001
While attending an "all-white prep school" a young black athlete has trouble fitting in. His talents as a writer are discovered by a "successful but reclusive novelist." This forces the novelist out of his shell and forges a strong bind between the two.

Finding Forrester has already been in US theatres since December, but it's never too late to add a good trailer.



February 10, 2001
Three men (Matt Dillon, John Goodman, Paul Reiser) tell their stories of how they love the same young woman (Liv Tyler), all around the setting of a bar called McCool's in a single night.

Come spend One Night at McCool's.



February 10, 2001
Jennifer Lopez plays a busy Wedding Planner who realizes that she spends so much time organizing other people's romances, that she doesn't spend the time to think about her own love life. And then a great guy (Matthew McConaughey) saves her life (and her shoe). The problem is, he's engaged to one of the brides she's helping.



February 10, 2001
The lead singer (Wahlberg) of a tribute band called Blood Pollution to the veteran heavy metal band, Steel Dragon, gets a chance to become a real Rock Star when he is surprisingly recruited to sing for the real group when their singer leaves.



February 10, 2001
A group of ex-cons (Costner, Russell, others) plan a heist of a Las Vegas casino during an Elvis-impersonator convention.

Hail to the King baby and download the 3000 Miles to Graceland trailer.



February 10, 2001
Stanley Kubrik's last unfinished work was Artificial Intelligence. Now Steven Spielberg, a personal friend of the late Kubrik continues the story of a Robotic child in the 21st century.

I just added a great teaser trailer for this movie!



February 10, 2001
Pluto Nash (Murphy), the owner of a nightclub on the Moon in 2087, finds himself in hot water when he refuses to sell his club to the local mob. Now Pluto finds himself inadvertently leading the lunar independence movement.



February 8, 2001
I just added a second teaset to one of the most popular movies on the Punk, Lord of the Rings.

You will find this trailer. Or this trailer will find you.



January 26, 2001
The mummified body of Imhotep is shipped to a museum in London, where he once again wakes and begins his campaign of rage and terror.

Check out the new The Mummy Returns trailer.



January 26, 2001
The Hannibal teaser trailer has been pretty popular here at the Punk. Let's see how the new trailer does.



January 26, 2001
Chaos breaks out when a meteor crashes on Earth, bearing one-celled organisms. The problem is that they begin evolving at a pace much faster than what happened on our world. Changes that took billions of years happen in one month. Now the battle for survival of the fittest must take place all over again.

Check out the new trailer.



January 19, 2001
Enemy at the Gates tells the true story of a struggle between two men during one of history's bloodiest battles, the Battle of Stalingrad.

Vassili Zaitsev (Jude Law), a russian sniper with over 140 kills in Stalingrad alone, is used by the russians to demoralize the Germans and help boost the russians morale.

Meanwhile, Major Koenig (Ed Harris), an expert Nazi sniper and head of the german sniper academy, is sent to put a bullet in Zaitsev's head and restore German morale in Leningrad.

If you enjoyed Saving Private Ryan, you'll love the Enemy at the Gates trailer.



January 19, 2001
It seems that the most popular movie on the Punk right now is The In Crowd, so to please you even more, I've just added the trailer in Quicktime format in 3 sizes, the Quicktime teaser in 2 sizes and 10 clips from the movie itself.

What would you do to get in?



January 11, 2001
The ogre Shrek sets out to save his swamp, only to find himself given the task of slaying a dragon and rescuing a princess.

Click here to check out the Shrek trailer.



January 6, 2001
When two of the world's best secret agents are kidnapped, their kids are the only ones who can save them.

Click here to check out the Spy Kids trailer.



January 5, 2001
The Fast and the Furious is a movie about rival street gangs in Los Angeles that use street racing as a means of establishing power and about an undercover cop that infiltrates those gangs to investigate truck hijackings.

Check out The Fast and the Furious trailer.



January 5, 2001
When amateur comedian Lance (Chris Rock) finds himself at heaven's door, he is convinced that there has been a mistake, luckily he is right. Since returning to his own body is no longer an option, he is placed in the corpse of a rich Manhattan mogul until a more suitable replacement can be found.

Check out the Down to Earth trailer.



December 31, 2000
I can't believe I haven't added the Snatch trailer until now, but here it finally is.

Turkish, an unlicenced boxing promoter is pulled into trouble when he becomes involved with big time criminal Brick Top, who wants him to arrange a fight and fix it. Meanwhile, a diamond theft goes down but the 84 karat stone goes missing. This leads Avi, the boss who was supposed to receive the stone, to come to England to search for it, with the help of his cousin, Doug The Head and Bullet Tooth Tony. As events twist and turn, the two situations blend into one with a chain reaction of events carrying on for each and every character.



December 30, 2000
Just added trailers and teaser trailers from Traffic, a movie about drug trafficking told through a series of interrelated stories starring Michael Douglas, Don Cheadle, Benicio Del Toro, Luis Guzmn, Dennis Quaid, and Catherine Zeta-Jones.



December 16, 2000
As a special offer for the holiday season, I have lowered the price of the Trailer Disc and the price of shipping and it is now just 13$ (plus shipping).

The trailer disc is a collection of almost 40 of the best and most popular trailers and teasers on the site.

You can read more details and see a complete list of trailers here.



December 16, 2000
Jack Nicholson plays a police chief who may have retired from the force but his pledge to find a child's killer still stands. Check out The Pledge.



December 15, 2000
Sara Deever (Charlize Theron) has a mission. Each month, she starts a new relationship, and helps that man become a better person, and then she moves on. Well, here comes November, and this time, it's Nelson Moss (Keanu Reeves), who hopes to woo her for good. Check out this remake of of the 1968 movie - Sweet November.



December 15, 2000
I've just added the short teaser to Spider Man which aired on ShoWest in March.

No actual footage from the film, but if you don't want to wait until 2002 to see more, check it out right here.



December 14, 2000
I just added a very action packed trailer for Tomb Raider starring Angelina Jolie as the one and only Lara Croft.

The trailer looks pretty much like what you would expect from this kind of movie, lot's of action, beautiful people (ok, just one) and amazing stunts by Lara.

Overall, a nice trailer, available in 3 sizes - from 4.8 Mb. to 22 Mb.



December 9, 2000
If you like the Jurassic Punk and visit it often, please tell your friends and family about it.

I've added a new form which will allow you to recommend the Jurassic Punk to your friends by e-mail.

Click here to try it out.

Thanks!



December 8, 2000
Peter Bowman (David Morse), an American engineer in a Latin American country, is captured by anti-government forces demanding $6 million for his safe return. However, his U.S. employer will not provide the ransom.

Peter's wife Alice (Meg Ryan) is forced to deal with the matter on her own and seek Proof of Life.

Download the trailer here.



November 19, 2000
As you can see, our home page now has a brand new look.

I find that this new design is more consistent with the rest of the site and looks better (I hope). But most importantly are two improvements for old-time and new visitors:
Our new visitors can see their options right at the top of the page and choose where they are headed. People who have visited before can see what has been added to the site since their last visit right here on the news section of the first page.

Please take a minute to send me an E-Mail and let me know what you think of the new design.

Enjoy!



November 17, 2000
Added the trailer for Jim Carrey's take on Dr. Seuss' classic How the Grinch Stole Christmas.



November 11, 2000
Added an excellent trailer for the new Survival flic starring Tom Hanks - Cast Away. The trailer is great, I'm really looking forward to this movie. The trailer is available in 4 different sizes ranging from 40 Mb. to just 6.5 Mb.



November 11, 2000
Added the Blair Witch 2 teaser and trailer, both available in high, medium and low resolutions.