Formula 51
Directed by: Ronny Yu

Starring:

Samuel L. Jackson .... Elmo McElroy
Robert Carlyle .... Felix DeSouza
Emily Mortimer .... Dakota
Nigel Whitmey .... L.A. Highway Patrol
Robert Jezek .... Priest
Meat Loaf .... The Lizard

Release Date: October 18, 2002
Synopsis
Formula 51 is the story of Elmo McElroy (Samuel L. Jackson), a streetwise American master chemist who heads to England to sell his special new formula - a powerful, blue concoction guaranteed to take you to "the 51st state."
McElroy's new product delivers a feeling 51 times more powerful than any thrill, any pleasure, any high in history. But his plans for a quick, profitable score go comically awry when he gets stuck in Liverpool with an unlikely escort (Robert Carlyle) and his ex-girlfriend (Emily Mortimer) and becomes entangled in a bizarre web of double-dealing and double-crosses.
The movie's official tagline is "Nice Wheels. Dirty Deals. And One Mean Mother In A Kilt!" but I like to simply think of it as "Snatch meets Shaft", and if that doesn't sound sweet enough, simply check out the trailer below.
Sweepstakes
To celebrate the release of Formula 51, we will be holding a draw between our visitors who answer the following simple question and giving away some great prizes including our grand prize: A Formula 51 poster signed by Samuel L. Jackson and Robert Carlyle, and a Formula 51 T-Shirt, Coaster and matchbook. 5 runner-ups will get an unsigned Formula 51 poster, T-Shirt, Coaster and matchbook.
To enter the prize draw, just answer the following question:
Clips & Trailers
Check out the trailer:
To view the trailer, download it first by right clicking
the link and choosing "Save Target As..."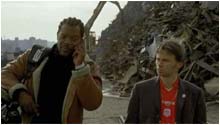 Low Res | Med Res | High Res
Next, for some "Samuel L. Jackson kicking ass
while wearing a kilt" action, check out this clip: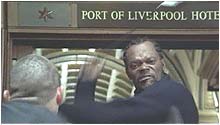 Low Res | Med Res | High Res